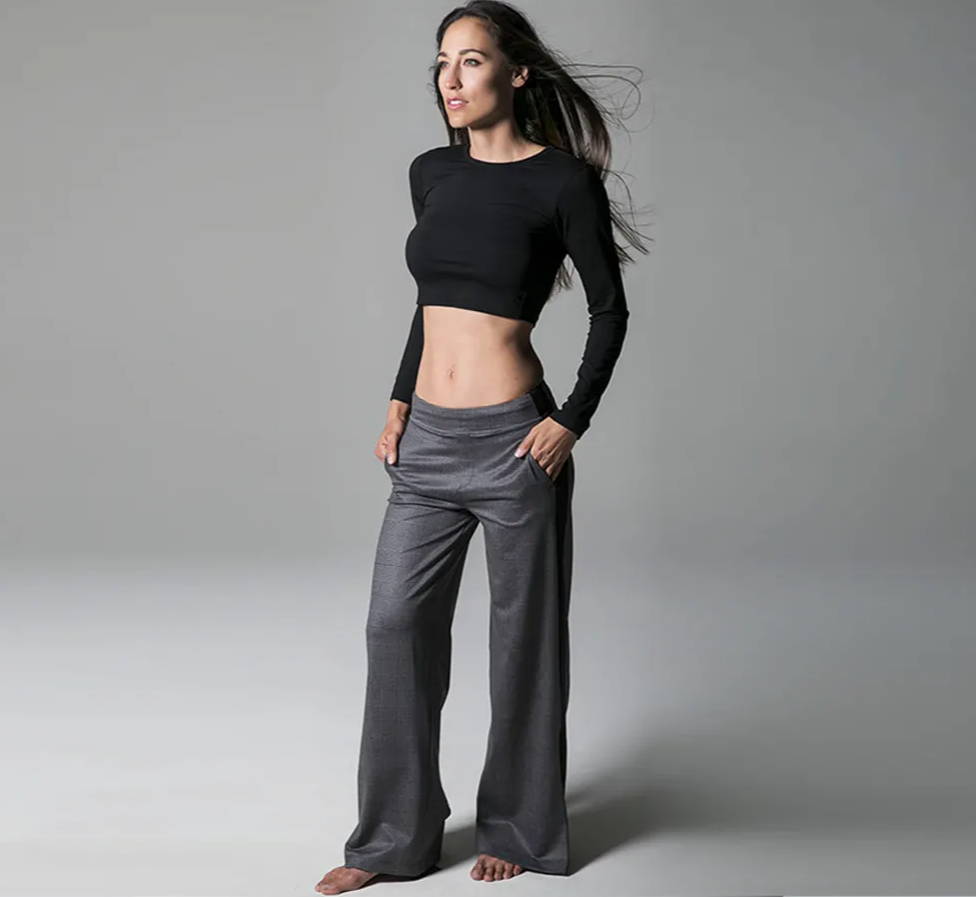 Finally, the Perfect Yoga Dress Pants
Do you need help finding a pair of pants that move with you instead of constricting your range of motion?
Whether you are at work, visiting friends, running errands, or moving through an invigorating series of poses, your clothing should be comfortable, flexible, and supportive.
KiraGrace's menswear-influenced yoga dress pants blend elegant, feminine details with wear-all-day comfort. No wonder they are our #1 bestsellers.
Yoga Pants For the Office
Finally, you can wear your yoga pants to the office!
Because of their tight, form-fitting cut, exercise leggings are discouraged in many professional office environments. But, yoga dress pants feature classic, figure-flattering cuts including boot cut, straight leg, and wide-leg pants.
But, unlike a normal pair for trousers, made with inflexible fabrics and buttoned waistbands that cut into your middle, yoga dress pants are stretchy, flexible, and high waisted. Performance knits are paired with stylish colors and prints, including classic blacks, charcoal, plaids, and more.
The result is a beautiful, flattering, and luxurious pair of pants that you can wear to work or on the mat.
KiraGrace Dress Pants
KiraGrace is women-owned, and all our products are women-designed with women in mind. We are centered and grounded in our customer and her needs. Our yoga dress pants are designed to be flattering, graceful, and supportive.
Because of this, our customers tell us, KiraGrace offers the best yoga dress pants on the market today.
"This yoga pant is my dream come true... the fit and quality are amazing and I feel put together, elegant and classy. I get compliments all the time. Thank you!"
- Julie K
"These pants are the most flattering I've ever owned - AND I can wear them to work and I don't have to change to teach my yoga class! These are a winner."
Bonnie P.
"Absolutely enjoyable. I love the way they fit. Dress up, dress down. Comfy and classy. I bought 2 pair of the slacks in black and will purchase the plaid pair next."
Rocky J.
"I teach ballroom and latin dance in a gym, and I am constantly looking for things that are functional yet elegant for times when I teach Waltz and tango. These pants are elegant, functional and the material is delicious! I have even worn them to work in my corporate job!"
Joelle S.